Computer Repair Service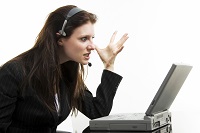 You're sitting at your home or work computer, and all of a sudden it freezes. What do you do? There is an easy answer to that question...just pick up the phone and call Island Website Design and Consulting. Computer failure is very common; it can happen to us all. It doesn't matter whether your computer is a Microsoft Windows version or an Apple Macintosh. What we typically find (amongst all brands and models) as the culprits to these computer freezes are as follows:
external viruses

hard drive failures
power outage interruptions
outdated or non-compatible equipment and programs
networking issues
Or perhaps your computer doesn't turn on at all or is running very slowly. We can conduct thorough, diagnostic tests and fix the concerns at hand. Our repairs might include installing upgrades or additional memory, re-routing servers, or replacing hardware. With our expert knowledge in the mechanics of computers, we repair them expediently and affordably, as we know without them our home and work lives are most difficult. Please call us anytime @ 843-636-3833, and we will be happy to work you in for a scheduled appt. or emergency repair.